2021 Season
Gents, Don't forget to attend the AGM November 8th at the Bulls Head 7 o'clock for an early start. Its your society and its your chance to have your say.
Ramsdale G.C.
Up hill and down Ramsdale. What a difference between the front nine and the back nine. The last fixture of the year seen the society go back to Ramsdale after I believe a 24 year gap and a few members will be wishing for another 24 year gap after that back nine.
 The journey to Nottingham had to be some of the worse weather conditions we've ever travelled in, non-stop torrential rain but according to our fixture secretary a phone call to the course revealed it wasn't raining there and to be fair to him by the time he got there it wasn't.
The front nine being relatively flat has some lovely holes a few doglegs that make positional play essential, always difficult when you don't know the yardage but it makes for better golf in my opinion. With the greens having been hollow tinned and with pools of water still on some of the greens putting could be a bit of a lottery.  After the back nine there is the climb up into the Gods to the tenth and boy what a climb, even harder if you've left your battery at home aye Shilts.
After the tenth you climb again even higher and the twelfth tee is even higher again that's if you make it there without falling over. Some say that when he went down they thought it was the end of Eastenders. Summer shoes are never a good idea in the mud on a steep slope Mr Dishington.
With the top four golfers going out last to decide our golfer of the year we all awaited the results, in third place after some very dodgy handicap calculating Nick Williams on -3 who was beaten on count back by Andy Morton -3 but the winner on the day with a score of -2 Ada Phillips. Andy Morton's second place was enough to "provisionally" give him the golfer of the year prize.
On another note it was nice to see the guy in the aeroplane had heard about our handicap secretary and wasn't slow in showing his thoughts.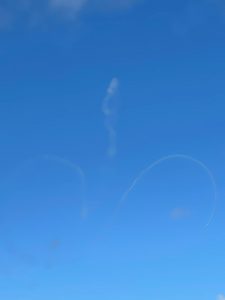 Only joking Keith we love you really.
Killworth Springs
Not a day for the arachnophobes!  For the 18 golfers that took part in the Fred Green Medal on a beautiful October day what to wear was the first decision of the day. We had one golfer in shorts and another in a polo neck jumper, the guy in the shorts made the right choice. As for the guy in the polo neck maybe he was trying to lose a few more pounds. I have no idea what was going on in the spider world but I've never seen so many spiders and cobwebs. At one point waiting on a tee my clubs were covered I know we were waiting for Roy but it really wasn't that long!
Killworth has a few lovely holes and a few holes that are very samey; in particular the run of holes 14, 15 & 16 but if you ask me to pick 3 holes that stand out apart from the 18th I'd struggle. The one thing to remember about Killworth is the rough, each side of the fairways awaits some killer rough that is tough to get out of for any wayward shot.
Thinking about the course I'd have to say its okay 5 or 6 out of 10 the same for the breakfast not the worst we've ever had and not the best but for £34 I shouldn't grumble too much.
The result on the day was a fairly close run thing apart from the winner. A lot of tied scores and count back winners all the way up to the top Finishing in 3rd was Nick Williams just being beaten for 2nd place to Lee Dishington on count back both scoring 72. Congratulations to Simon Douglas for a great round. I hear the back nine was wonderful to watch with shots into the green like watching a pro. Well done Simon a great score of 68. Heaven knows what you'll be playing off the next time you turn up.
A weekend in Bristol
Pete Arnold take a bow, what a wonderful weekend that was. With 3 of us falling over on a night out you can tell in got a bit messy!
Bristol is a great night out with pubs to suit all tastes but just not enough time to sample them all sadly.
We started our weekend with a trip to the very friendly Long Ashton where all the members were chatty and asked about what we thought of the course a lovely start to the weekend. Wow what a course to start with. Talk about character the only negative comments about the whole course was the blind tee shot off the third, these are never good when you've never played the course before and the 10th, what a weird tee shot that is. 130 yards to clear a six-foot fence that guards a busy road, very strange. Pete decided that we would hold as many competitions as possible on the opening day with a Medal for the main prize, a fewest putts competition and also a blind pairs it made for some fun scores on the card. In our group we had a couple of "what did you score there" "11 with 1 putt! or "5 with 4 putts" A crazy day for some of us. The results from day 1, Main competition Captains prize in third place Lee Dishington Second the Captain himself but in first place Ada Phillips. Apologies gents I didn't get the scores down. The putting competition looked like it would be split with about 7 plays all finishing with 30 putts until Simon Douglas came in in the last group with a score of 29. Finally, the blind pairs  a hush went around the tables as the names were read out and the scores added together everyone trying to work out who was left and who could possible finish with the lowest combine score. Ada Phillips and Andy Morton held the lead up until Lee Dishington and Simon Douglas came out as a pair beating them by 4 shots and taking the prize.
Day 2 Mendip Springs
 Another beautiful course, a simple opening hole a short par four followed by a 150 yard par 3 all carry over water but its on the back 9 that things really get tough. Back to back long par 5's that seemed to go on forever into the wind. The greens at Mendip were fantastic and with lots of water that never really or shouldn't have come into play this is lovely course. The 9th, 10th, 11th, 12th & 13th all being dog legs and the back nine being 500 yards longer than the front some tired golfers made their way into the clubhouse. A team competition played to Berwick rules its always hard to work out what a winning score will be, but we knew it wasn't going to be our group sorry Pete.
 Finishing in Third place were Dean Newbold, Simon Douglas, Lee Dishington & Dave Shilton with a score of 77. Second place went to Ash Govani, Steve Giles, Andy Morton & Steve Smith with 80 points but the winners with an impressive 90 points Ada Phillips, Roy Smith, Steve Jackson & Paul Spragg. We also had 4 nearest the pins with Dean Newbold taking one Paul Spragg another and the other two going to Pete Arnold.
Day 3 The Players
I thought this was going to be chaos as we had to start on the 10th but in fairness to The Players it worked very well. Starting on the 10th was a tricky start, 160 yard carry over water just what you need for your first strike of the day. This for me was the best course of the weekend although it was a close-run thing. The greens were fantastic the fairways were lush this course made you think it wasn't a smash a driver down the fairway it was more about position which at time was hard to work out. Some of the holes were beautiful to look at if not to play, my favourites were the 15th & 16th.  15 is a long par 5 played down to the road and then over the water up to the green this is followed by a par 3 all over water. Playing the course backwards as it were I'm sure our group weren't the only ones to fill the card in wrong and have to stop off to grab a fresh one part way round. Finishing in third place just beating Paul Spragg on count back was Ash Govani with 30 points second was Steve Giles 32 points but winner on the day with 33 points Simon Douglas.
Thanks gents for a brilliant weekend I really enjoyed this one I'm sure Bristol, will be on the agender for another weekend soon. Great choice Pete thanks again for sorting all the competitions and courses. I'd also like to thank all the drivers who get the rest of us to the courses and hotel thanks guys you do a fantastic job helping us all.
Hawkstone Park  Ken Atkins 
The return of and old favourite with its craggy features, slow pace but beautiful in places it was nice to see Roger back playing with the society again.
Hawkstone on the other hand, even in the rain looked even better than I remember it. A few improvements have been made around the course and I think they are for the better. The removal of the deep rough along the side of the 18th and bushes along the side of the 15th to reveal the lake makes the hole much better. Unless your name is Lee Dishington and you slice your drive straight into it off the tee.
The greens were in top condition running true and fast even in the wet conditions. Some of the greens are a tough read but a good test on the day. Well done to Roy Smith and Lee Dishington who managed to get a two. I witnessed Lee's a good 20 foot putt slightly downhill with a right to left break, yeah okay it was a fluke but aren't they all from that distance?
Congratulations to one of a new members Andrew Grice aka Yorkie who went from finishing so far back last time be played Hawkstone that he was behind people that never turn up to finishing in first place with 33 points just beating Bob Clarke on count back. In third place was Roy (how can I play off 8) Smith with 32 points. Well done gents some good scores off those handicaps.
For a day when the weather forecast didn't look good and we all thought we were in for a real soaking the end result wasn't too bad and the last group even finished in a bit of sunshine. Thank you Hawkstone I'm sure we'll be back again.
Droitwich Club Championship
Well a full English would have been nice! Droitwich was a course that we should have played last year but due to Covid it was postponed for 18 months which still isn't enough notice to prepare our breakfast apparently, still the bacon roll was very welcome. No Ada I don't want the USB.
Droitwich is a lovely course with some great holes some tough tee shots and because of the dry spell lighting fast greens. For me personally the first set the way my day was going to go. Terrible tee shot followed by a slightly better second followed by my third going out of bounds and then I took three putts to get up the steep ledge across the front of the green. Each one rolling back down leaving me slightly further away than I'd started. Great start to a club championship medal card.
Not much for me to say really apart from someone driving through us on the second, someone having nine to get out of a bunker and then that person nearly being killed by me on the 16th when I thinned one and the ball flew at his head at about hundred miles an hour, Sorry Morts. Pretty uneventful day really.
Being the Club Championship we had prizes for nearest the pin on all the par 3's with Droitwich very kindly leaving a pen, paper and a 10 ft tape measure unfortunately only one of our nearest the pins could be measured using the tape just once. Congratulations to Nick Williams, Pete Arnold, Andy Morton and Ash Govani for finishing closest to the pin.
Following the nearest the pin we had a few members lucky enough to get a two congratulations to Andy Morton, Ash Govani and Ben Stephens. Very well done on some tricky greens.
The main competition of the day was a close run thing with some very good scores. Finishing in 3rd place with a score of 73 Andy Grice (Yorkie). In 2nd place with a score of 72 Simon I'll drive through the group in front I don't care Douglas Leaving our winner and Club Champion for 2021 with a score of 70 Bob Clarke. Congratulations to everyone on making this a fun and competitive event.
A Trip to Monmouth
WOW! What a beautiful course. 21 members took the long journey down to Monmouth to play a course we had all heard a lot about and one member had played but a few years back and had longed to play again. Every hole on this course in my opinion is different and has its own little twist.
With breakfast being served at a pace that can only be beaten by the new guy in the halfway house at Drayton (sorry non Drayton members) the draw and rush to the first tee was a little manic, again. Just a suggestion could we either do the draw before breakfast or make sure the guys doing the draw get theirs first. Those first few hills were hard going with my breakfast only halfway down.
My only criticism of Rolls and they are only small things a few marker posts to let you know where the ideal line is would be helpful to those playing the course for the first time. Once or twice we were playing shots with a "I hope that's the right line" thought going through our heads and pin positions having all red flags is okay if there is a marker on the pin. Or maybe as we've seen on other courses a daily pin position sheet. Little things that could have made all the difference.
Still we all made it around in one piece although Ada & Lee were worried at one point that they might have to call for the defibrillator as Fordy got to a lovely shade of scarlet going up one of the hills.
Congratulations to Roy Smith who shot a very impressive 39 points to win the Bulls Head trophy beating Steve Smith (35 points) into 2nd place and with Andy Morton finishing 3rd with 33 points.
Unfortunately Steve Jackson couldn't repeat his hole in one from earlier in the week and had to settle for a two and then had to share his prize money with Lee Dishington who also had a two. Well done guys.
The Great Wall of Sapey.
Finally, at last and about time just some of the phrases used on Saturday to describe our first fixture of the year.
Sapey is a lovely course with some really nice holes all laid out in an interesting way, it's not just a straight up and down trek like some courses. The fairways were in lovely condition as they should be with nobody playing on them for a few months. We started the day with a lovely full English breakfast sitting in warm spring sunshine. After a short delay, I think the handicap secretary thought he'd retired from doing the draw as well as work, the first group got us under way. The first few holes soon had us realising that although the tees and fairways were in good condition the greens weren't. My only moan of the day would be the greens. So many lumps and bumps they were impossible to read. If only they had been rolled or ironed they would have been so much better.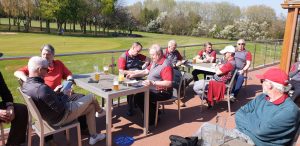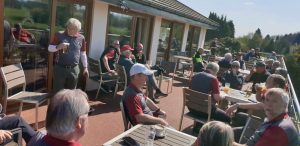 The Glynn Hughes Memorial is a Stapleford competition so points were hard to come by if you didn't putt well (well that's my excuse and I'm sticking to it). I like Sapey and I know a few others in the society do to, a lovely welcome by friendly staff a really nice course particularly the short 8th down the hill and the 9th over the water and around the corner if only the greens were up to the same standard. Congratulations to Nick Williams for finishing third just behind Ada Phillips who lost out on countback to Andy Morton. 10 points on the front nine and a very good 23 on the back that's what you call a turn around. Ill finish with an apology "Sorry Sapey, we have a history of buggy accidents" Although to be fair this one wasn't Paul Burke's fault!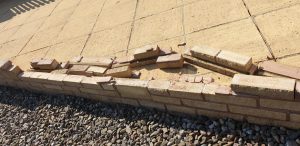 Captain's weekend is planned in for 11th, 12th & 13th September in Bristol which I have on good authority is a cracking place for a good night out so get your names down early and lets make it a full turn out for a great weekend of golf. Courses are yet to be confirmed but the two I have seen mentioned look top notch.
REMEMBER A COMPETITION CARD WILL NOT COUNT FOR THE NEXT EVENT.
The usual course websites can be viewed simply click on the links within the calendar and there should be all the information you need. The times you see for each event will be the first tee time. Don't forget to get there at least an hour before this time if you want your breakfast.