2022 Season
Captain's Weekend 2022
This years Captain's weekend took place over the usual three courses and all I can say is this year we had three very different courses. We started the on Friday at Preston G.C. and after a friendly welcome and a full English breakfast the weekends golf began with the captain's prize. Medal is never easy on a course that you don't know but Preston is a beautiful course, and it was in beautiful condition. Every hole on this course is different, after a gentle start with a 130 yard par 3, which our eventual winner went so far left off the tee he was almost on a different course. The second is a elevated tee shot down the hill and then with an elevated green awaiting an up hill second, or 7th depending on how your tee shot went. I really liked Preston G.C. the diversity of holes wants you to play the next hole and the next to see what you are going to get. One players trolley enjoyed the course so much that it went off on its own to set up camp in one of the bunkers Oopps. On to the winners, with four nearest the pins to play for congratulations to Nick Williams, Ash Govani, Steve Mott and Steve Jackson each winning a bottle of wine each. In the main competition, in 3rd place scoring 72 Ben Stephens in 2nd place just beating Ben on count back Andy Morton but our winner on the day with a score of 71 was Ash Govani. Well played guys great scores.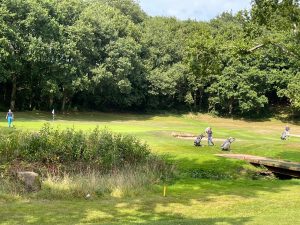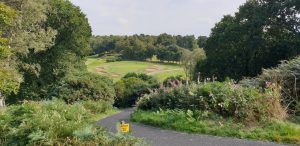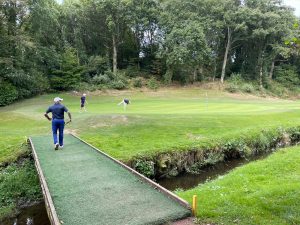 After finishing at Preston G.C. a short drive took us to Lancaster Gate hotel just outside the city of Lancaster. A quick check of local pubs had us heading for Ye Olde John O'Gaunt which had a selection of beers to suit all and a barmaid that was ready to fight anyone that didn't know what they wanted at the bar or just happened to try and jump the queue! But I think we all enjoyed our stay there.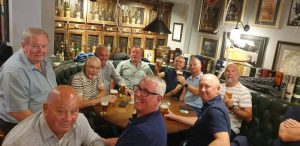 Day two our Berwick rules team competition took us north to Silverdale G.C, well most of us, as the same person whose trolley had enjoyed it so much found out that their golf shoes had enjoyed it so much they had decided to stay there. Silverdale was described by a member of Preston as a Micky Mouse course. I can see where he was coming from even if that comment was a bit harsh. Silverdale has too many blind holes and holes that cross over each other, greens very close to tees and shared fairways with blind shots. The condition of the course was lovely, but I personally wouldn't rush to play there again. This type of course is fine if you play it on a regular basis but to play it as a one off isn't fun. We had tee shots that had to clear walls 20 to 30 yards from the tee. Good job Lee Dishington wasn't playing, or he'd have to have taken a wedge to get his ball over the wall. At one point we had to cross under a railway line through a tunnel so low that Simon thought he was back at work and started looking for Paul Burke asleep up a corner. With what was described as a curry for our meal I think I can safely say that Silverdale was a disappointment. The scoring in this competition is basically Stableford and with three teams playing. Steve Smith, Ada Phillips, Dave Shilton and Ash Govani finished in 3rd spot with 76 points Roy Smith, Andy Morton and Steve Mott 2nd with 77 points but the runaway winners were Simon Douglas, Trevor Howard, Ben Stephens and Steve Jackson with 84 points.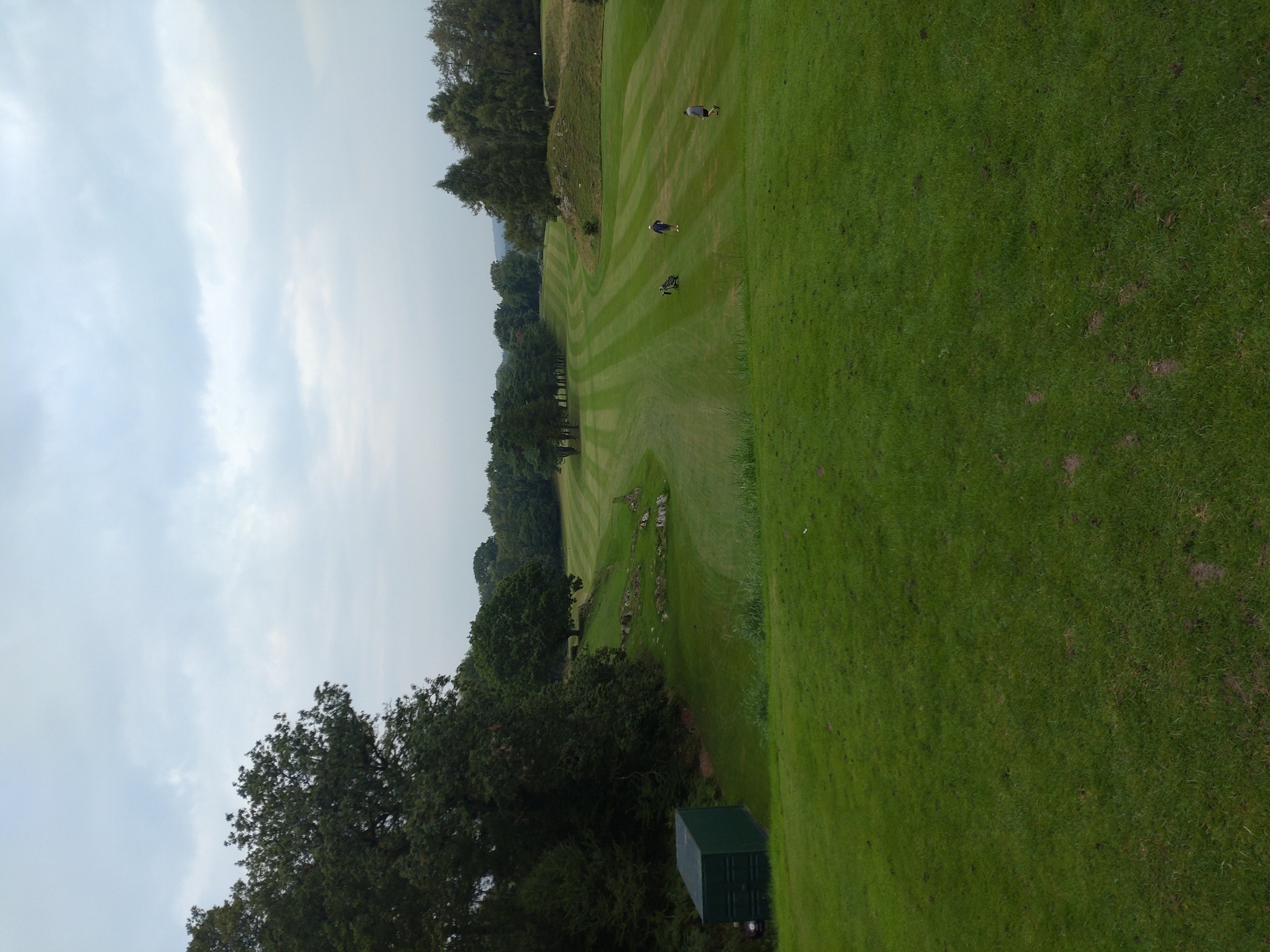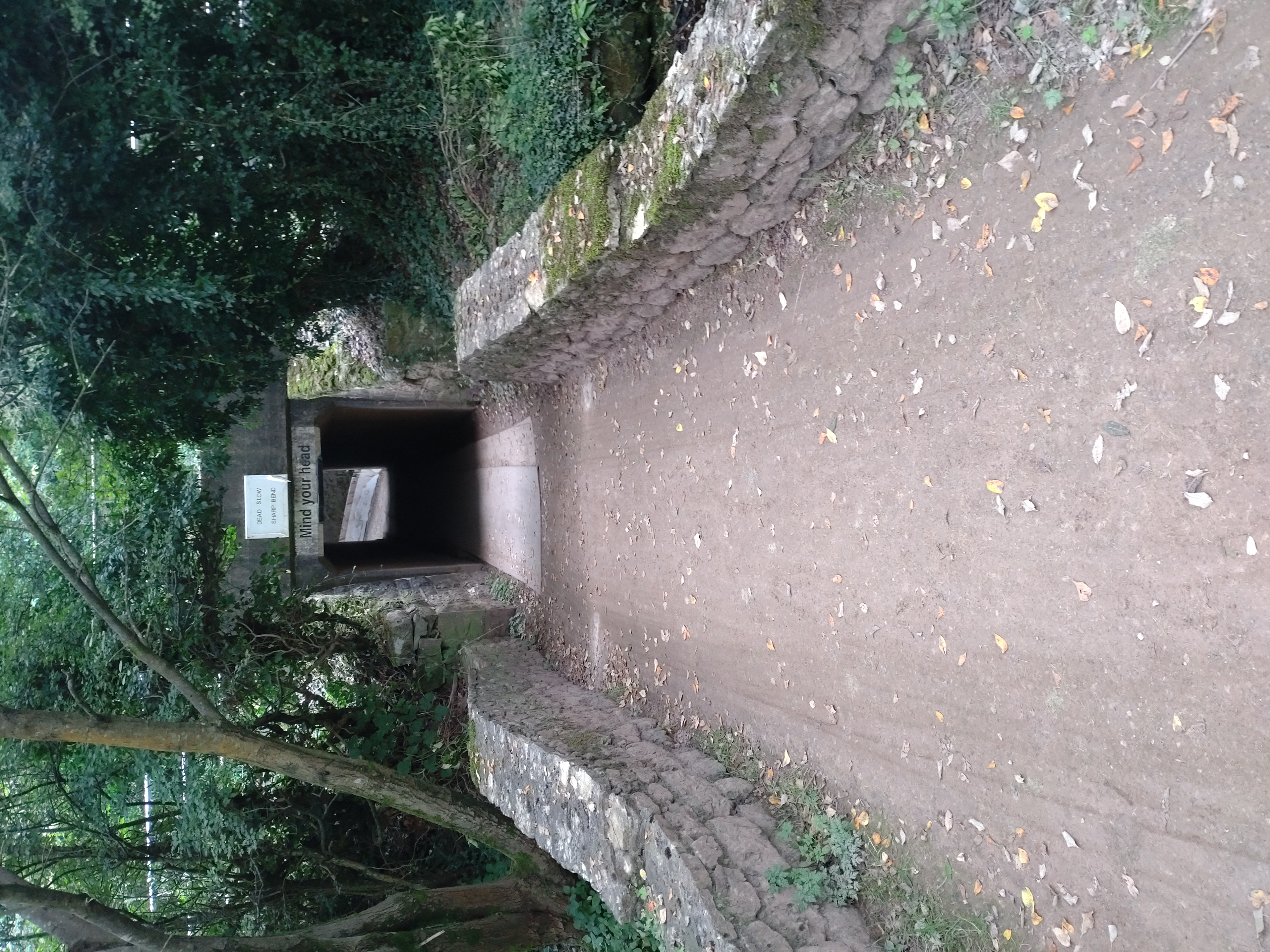 Day three should have been an hour's trip south to The Mere at Knutsford however an accident on the motorway had everyone either stuck in traffic or going around the Wrekin trying to find away to get through Preston and back onto the M6. Eventually we all arrived and the very friendly and helpful staff at the Mere had us sorted. By us having our sandwiches and chips before going out it gave us a bit of time to chill before teeing off almost two hours late. The Mere was the one course we had played before and was looking forward to. Oh, how disappointed we were! Yes, the course was dry and had suffered due to the dry summer, but the tees were shocking, and the bunkers were pretty much the same. Just because we've had no rain doesn't mean you can't trim the edges of the bunkers or look after the tees. Sorry Mere but I was so disappointed after looking forward to playing here all weekend roughly £25 dearer than Preston, but Preston knocked spots off it. A individual Stableford competition saw Simon Douglas finishing in 3rd spot with 27 points Ash Govani in 2nd with 32 points but our winner on the day with a score of 35 points Andy Morton. Well played gents, its always tough playing on Sunday after a weekend of beer.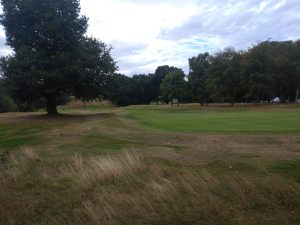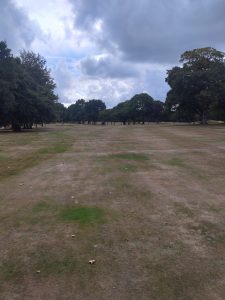 Another very enjoyable weekend and I have to say great value for money. Three courses food and a very nice hotel what's not to like, okay Silverdale but other than that a brilliant weekend with great company as always. The course of the weekend was undoubtedly Preston G.C. and a big well done to Andy Morton who must have been the most consistent golfer over the weekend. A big thank you to this year's captain Roy Smith and as always Ada Phillips. I'm already looking forward to next years. Anyone know where we're going?
Limited Club
A slightly different event this year from previous years but only in the fact that the venue had changed from Lea Marston to Drayton which made club selection a tougher choice for some but easier for others. All those that hit driver on par 3's had an easier choice. It made for some interesting golf and some very good scores. It just goes to show that you don't always have to be long to score well, staying out of trouble is always the answer.
Congratulations to Pete Arnold who finished 3rd with a score of 37  Second place was Dave Shilton scoring 34 and just pipping Dave was Andy Grice with a great score of 33½ Great score around the front 9 at Drayton with only 3 clubs and a putter.
Club Championship Shifnal G.C.
The main event of the year The Club Championship played this year at Shifnal G.C. a course that the society have played before but asking around before the day began not many could remember it.
Looking back at my records the society played here in August 2011 and June 2014 and I think the reason few could remember it is, and this maybe controversial but her goes Shifnal has nothing memorable. Wide fairways and a few holes that are up and down but nothing to say Wow. Even their signature hole a par 3 over water a very pretty hole but still no wow factor. Having said all of that the course was in great condition with great greens, if a little slower than what some of us are used to.
On the hottest day of the year so far 19 golfers turned up to do battle, a couple letting the side down by turning up with their shirts out. Standards gentlemen please! After our brunch the draw took place and handicaps read out. I'm not sure if someone took umbrage to their handicap, and no it wasn't me but the handicap secretary was next seen going arse over tit in the entrance to the changing room. Telford thought there had been an earthquake!
I'll start with the nearest the pins with all four par 3's having a competition it wasn't surprising that the long 212-yard 10th remained free after all 19 had had a go at it. Andy (Yorkie) Grice hit the 7th Dave Shilton hit the 13th and Paul Spragg was closest on the 17th.
The main competition was a close-run thing with third spot being decided on count back but Steve Smith with 74 came out top.  2nd place went to Baz Bolton 72 and with his second victory on the trot (Oh Fordy's going to get you) Paul Spragg with a 71. Things could have been so different had Baz not made a schoolboy error and played the wrong ball and had to take a two-shot penalty unlucky Baz. Congratulation to all three on some good scoring.
Next fixture is the Limited Club at Drayton. That could be a fun 9 holes!
Bulls Head Trophy Bondhay G.C.
Wow! If anyone would have said before we had played this course that we were paying £36 with a breakfast for a course this good, I would have said they were having us on but seriously I would travel the 60 miles anytime. Such a beautiful course, tight but beautiful.
With 20 members making the journey north and the sun shinning what could go wrong!
The first is a relatively straight forward par 4 just over 400yards, whoever measured that must have had a bad day. All four of our group hit fairly good drives but still had 250 yards to the green. And talking of the greens, every single one was top class a little firm and had to get a ball to stop on them but super-fast and true.
With water on a few holes but coming into play on the 9th and 18th especially this was definitely a course you have to think your way around. I heard one comment that went "this place has got more trees than the Amazon rain forest". Spoken by a member taking his umpteenth second shot from behind one of those said trees.
I don't think we've ever played a course, had only one member score over 30 points off full handicap (even if some handicaps are wrong) and still have nearly everyone say what a great course and we need to come back and play again soon. I for one, who finished last would love to go back again, even if it is just to prove it was a bad day.
Well done to Simon Douglas for finishing 3rd with 27 points Roy Smith for finishing 2nd with 30 points but a big well done and congratulations to Paul Spragg for ending the day on 33 points. With two nearest the pin to play for on the 7th and the 11th well done Nick Williams and Paul Burke.
Glynn Hughes Memorial  Bromsgrove G.C.
I'm not sure what's funnier on this day, Shilts not being able to play the event because Mrs. Shilts said he wasn't allowed due to a Birthday tea Party or watching Toasties face when I was driving to the course, somewhat not in a fit state, experiencing a roller coaster ride to the course, not sure who was greener in face colour, him or me LOL.
We haven't been here for a few years now but the course has matured nicely. Full breakfast was a belly buster, which is always a good start to the day, compared to Market Drayton where we starved for the day..!! We played on a very windy day, making playing conditions very tough, especially the up hill 4th & a few on the back 9, although on one of the holes, wind assisted, Si Douglas smashed a hit & hope drive, with the ball possibly lost in the trees, he then played a provisional, only to find out the fourball playing in front, perplexed by there body language, that he had driven the green, Roy's red face said it all LOL..
Bromsgrove Golf Centre, is value for your money, few members don't like this course, not sure why, as its turned into an enjoyable testing track, I first played it almost 25 yrs ago, the last time Fordy went to the bar first but it has grown into a nice set up & fits the budget, allowing us to play more expensive / quality courses this year.
Congratulations to Ash ( My Handicap is Wrong ) on victory, just pipping Clarkey ( Cough Cough, Sniff Sniff, Splutter Splutter ) who finished 2nd again, in 3rd was Ben Stephens.
Marston Shield South Staffs G.C.
Finally we get to play this golf course, we've had this booked for nearly 3 yrs, due to the Corona nightmare, it's been that long ago when I first spoke to the lady secretary, she has now retired LOL..
I truly believe, this course after playing it for the 2nd time ever, really must be in the top 5 best courses the society has played, since I joined back in 1998..!!
Everything from the experience of walking up to the the Club house, which is very traditional, with views of the 1st & 18th hole, you just got the feeling that the course would be stunning & that first thought did not disappoint, our society has a lot of members who also play Drayton Park which has improved dramatically over the last 2/3 yrs but when you walk & play this little gem, you realise how far away Drayton still is, the greens were slick, it was like putting on glass, every putt from 15ft to 18inchs, you really had to concentrate hard on, they lay out of the course is beautifully set up, no 2 holes are the same, now the fairways on this track, is really where Drayton need to be aiming at, they were compact, lush, cut at the right height, the ball sits high across all fairways, helping with ball striking & connection, it really was a joy to play & one that we will return to, possibly next year, along with Bondhay GC.
The feedback from the members who attended, was very positive & its a pleasure to hear the boys praise this fixture.
Congratulations to Dish on winning the event, I think he was – 1 on the day, which considering the course difficulty & very fast greens, it was an excellent score, 2nd was Andy Morts, with 3rd being our Captain Roy.. Well done boys..
Presidents Trophy  Market Drayton
What No Breakfast!
The second fixture of 2022 took us to a new course and one that I think we will be going back to, as long as the catering staff aren't off sick. Market Drayton is a lovely course if a little on the hilly side. All the holes are different with some tough challenges along the way it made for some fun golf. Although spread out over a wide area my only criticism, and I have to say its a pet hate of mine on golf courses holes that cross over other holes. A couple of holes have tees right behind the previous green but in particular the 10th  which crosses over the 1st and 18th fairway always a worry for me. Talking to a couple of members after our round they assured us that the greens would be more consistent in a few weeks and for what they pay a year, around £800 they certainly get value for money. At the end of the day there were some very tired and hungry golfers I'm sure a few were very glad they had a buggy. This years Captain Roy Smith couldn't make this event but very kindly left prizes for the winner and nearest the pin on two holes, the first being taken by Ben Stephens and the second by Paul Spragg. The overall competition was won by Steve Smith with a very impressive +3 just missing out in 2nd place was Bob I've got to leave early Clarke +2 and in 3rd place Andy Yorkie Grice -1. Well played guys that was some good scoring around a difficult course played for the first time.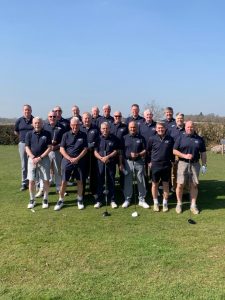 Can anyone guess who was breathing in?
Texas Scramble
Something different this year with the Texas scramble being played at Drayton Park and a few guests invited along to make up the numbers.  Although the day was chilly at least it was dry but with the course suffering some constant rainfall in the weeks before the order of the day was to carry. Not everyone's cup of tea but the sensible ones that knew they would struggle opted for a light bag and a half set of clubs.  One member didn't make it all the way round and another, one that I played with was to coin a phrase "blowing out of his arse" at the end of the round.  The winning team made up of three guests and the fixture secretary  scored an impressive 5 under par. Gents you'll have to excuses me as I didn't catch the names of the guests but I for one would welcome guests at all our events if it keeps the numbers up. 
REMEMBER A COMPETITION CARD WILL NOT COUNT FOR THE NEXT EVENT.
The usual course websites can be viewed simply click on the links within the calendar and there should be all the information you need. The times you see for each event will be the first tee time. Don't forget to get there at least an hour before this time if you want your breakfast.