2023
AGM
Don't forget Monday 27th November 7 o-clock for a 7:30 start. As we say every year it's your society come and have your say on any changes you like to be made.
Bondhay Wincanton Trophy
Apologies for the late update but a holiday and a shit laptop has only allowed me to update the site today. Bondhay, what can I say that wasn't said in the first report. Leaves and slow! The starter told us that they had been unable to get any of their equipment on the course in the past week because of the wet ground. I'm sure some of those leaves hadn't been move since September, looking for a ball became a joke at times with the first two holes playing directly into the low sun I felt sorry for those that hit a reasonable drive only to lose their ball under the leaves even if you had a rough idea where it had gone. With everyone having to search for balls on almost every hole play became very slow. Before we set off we were told that there were 5 temporary greens, to be honest some of these were better than the actual greens. Sorry I have to end on a moan but out of 26 members it becomes hard work for the guys involved in booking and paying to explain why we are only a society of 9! We were lucky to get away with society rates on the day.
The final fixture is usually the one that sees the top players go out last to battle it out for Golfer Of The Year but with only 9 turning up and with Steve Smith so far in front of those that were there it was a forgone conclusion. Even so Steve played a very steady round beating the rest of the field by 8 points. Shooting 36 Steve took first spot on the day and in the GOTY. Coming second on the day was Paul |Spragg with 28 points and in third was Roy Smith with 27 points. Taking Steve's great knock out of the equation the rest of the field finished with 8 points so a close called thing.
Two nearest the pins were both taken by Steve Jackson so he took home two bottles of wine which may have stopped him moaning about the slow play but I doubt it. On the subject of the wine I think a big thank you must go out to our 2023 Captain Ash for a great year, a great weekend away and to put prizes up every fixture is a great effort. Well done Ash.
Hawkstone Fred Green Final Medal
I think a few members thought Oh no not Hawkstone again! But this time we played the Championship and just like in football the Championship is second class. Sorry, all you Bluenoses you know it's true.
The society had played this course a few years back but for me it was my first time and I have to say that if that is the usual condition it will be my last. How they allowed buggies out on a course that wet is nothing short of criminal. The ruts that were left on the fairways and skid marks on hills and in areas from green to tee must leave the greenkeeper with sleepless night.
The course has some really nice holes but having to wade through thick mud just puts you off and it becomes a slog. The greens were okay but with the golfers in front leaving deposits of mud all over the place putting got to be a clean up operation at times.
This might sound like on long moan and I'm sorry I've thought long and hard about it but it has to be said there were parts of that course that shouldn't have been open
Not the society's fault and our members made a good job of what we had in front of us especially Bob Clarke, who's had a great season. I played with Bob, and he was steady all the way round and I'd say he left a few shots out there. He had a nearest the pin (never seen anyone get back spin with a driver before) and finished with a score of 76. Following closely behind was a stranger to the society and they always say beware of the injured golfer back from a long lay off Dean Newbold put in an appearance to finish with a score of 77 and after a little confusion Steve Jackson finished 3rd with 79. We must teach members how to fill in cards or was it a misread? There were some high scores and considering the conditions I was surprised that we only had one No Return. Well done gents for keeping going. Although I did hear one comment, and I'm mentioning no names here say "I never want to play with those two muppets again, my Nan could play better than then and she's been dead for years" With Paul Spragg taking the other nearest the pin a big thank you to this years Captain Ash for putting up the prizes.
Our next event is Ashbourne our final event of the year and Golf Of The Year is still to be fought for. Make sure you get you name down to play and lets make sure we all have a drink afterwards to end the season.
Walsall G.C. Ken Atkins Trophy
Having lived most of my youth just up the road from Walsall golf club I had heard so much about it and had always wanted to play there. I'm glad I did, and I wasn't disappointed. The society had last played here in 1999, before my time, Fordy informed us it was a club championship on a Wednesday, and it rained!
Its so like Drayton with tree lined fairways that it was like a home from home.
The day started with Garth feeling unwell and with thanks to Steve Jackson, who ordered a taxi for him Garth was soon safely back home. Get well soon Garth we all hope you are feeling better now.
With all the members making it on time, just we started with a good breakfast before the draw took place. I managed to be drawn out in the last group which is never anyone's favourite group to be in because if play is slow, you usually get members right behind you moaning but Walsall was surprisingly quiet for a Saturday afternoon, and we didn't see another group at all.
What else can I say with no buggy accidents and everyone getting there on time I'm sorry to say that the only thing to report on was Garth being ill and the golf.
The result on the day was Paul (I'll turn up and win every now ant then) Spragg taking first place with 37 points Second was Andy (Yorkie) Grice with 35 points just beating Bob (forever in the top three) Clarke on count back. Two nearest the pins were won by Yorkie and Steve Smith and for his good deed of the day with the taxi for Garth Steve Jackson was rewarded with a 2.
Excellent day on a lovely course and I hope it won't be another 24 years before we play it again.
Captains Weekend Southport
First stop was Mossock Hall. 10 members set out for the weekend 17 members managed to arrive in time for a very good quality breakfast. The captain had decided that the first event of the weekend would be a team competition under Beswick rules, which always makes things interesting. First tee was 11:30 and still no sign of the final two members.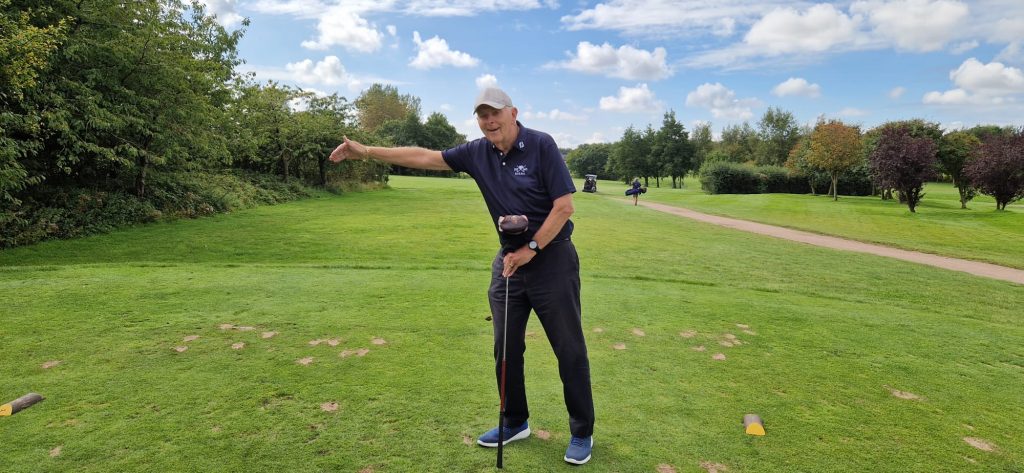 Mossock Hall is a relatively new course and to be cruel in places it showed. Not the best greens but that for me was the only real downside. The club house was a lovely building an 18th century old farm barn we were told. The course was a par 71, 6249 yard of parkland had some lovely holes.
Being in the third group we finished and got ourselves a pint and waited for the final group, and waited and waited, Just how late had the final members been! Two other groups not belonging to the society in and then finally the last group appeared over the hill stating that their buggy had broken down and that they'd had to wait for another on to be brought out to them. Not the only buggy trouble we'd encounter over the weekend but more of that later.
With an evening meal of roast beef followed by sticky toffee pudding, Mossock Hall's food was extremely good. The result of the team competition was a win for Bob Clarke, Roy Smith, Trevor Howard and Steve Mott. There was also an individual prize for the highest score and that was won by Nick Williams.
Captains weekend Formby Hall
Day two of the weekend seen us take a short trip up the coast to Formby Hall, well I say a short trip it would have been if we'd put the correct postcode in and hadn't taken the return journey to Mossock hall first! Never mind the views and the wildlife on the cross-country trip from Mossock to Formby was well worth the trip.
Formby Hall is a lovely set up and you could tell it was a class course when we arrived. A big hotel complex with the golf course adjoining it. The course, a par 72 and at 6,500 yards long I'm not sure whether it was the beer the night before or the breakfast at the hotel on the morning, but it seemed a lot longer than that. Agreed there were a few walks from green to tee but I felt I'd walked 36 holes by the time I'd finished. With water coming into play on almost every hole I'm sure I wasn't the only one to lose a ball or two, or three.
For those that had the luxury of a buggy the trip was a lot shorter and, in some cases, a little more hair raising! The buggies have a device that makes them cut out if you drive to places you shouldn't, but they hadn't reckoned on our Toasty. The buggies would cut out if you drove too close to the water, cut out if you got too close to the greens but strangely, they kept going if you decide to reverse into a bunker over the front edge. Apparently, one minute he's going backwards away from the green the next all he can see is sky as the buggy disappeared over the edge and down into the bunker. So far Toasty has knocked a wall down, driven into a ball washer and now reversed into a bunker. It's a good job you can't get points on your licence while driving a buggy.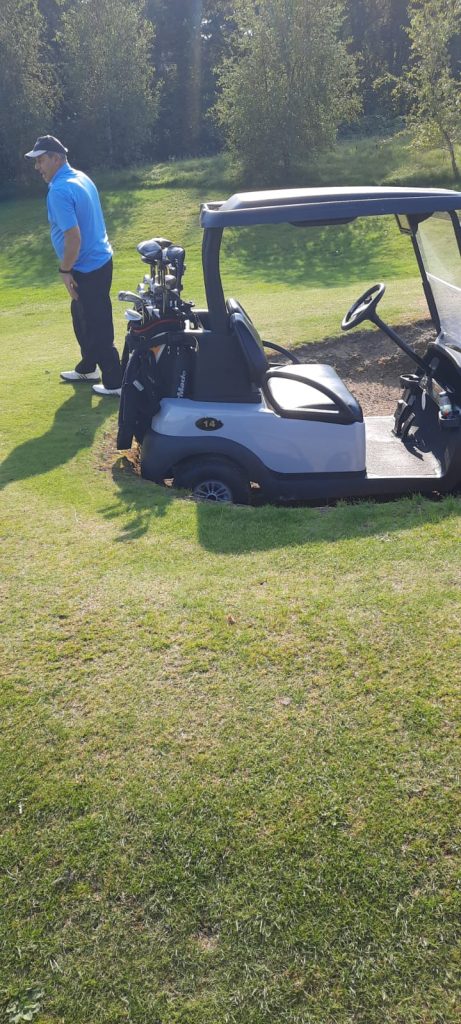 The competition on the day was the captains prize and our captain made the decision to opt for a Stableford comp. He must have known something as he ended up winning his own prize with 32 points just pipping Roy Smith on count back with Simon Douglas finishing third with 31 points. Two nearest the pin prizes, kindly donated by the captain were won by Ada Phillips and Pete Arnold and fittingly the longest drive was won by Toasty, The longest drive and the most dangerous on the day.
I'd like to thank everyone for making the weekend a real pleasure to be on, but special thanks have to go to the unsung heroes of the society for the behind-the-scenes organisation that we sometimes don't appreciate enough. So, a big thank you to Keith Ford, Steve Smith and Ada Phillips with a special thank you to Ash Govani for an excellent choice of venue and courses. I'm sure Trevor will be asking for your advice when he is captain next year.
Limited Club Drayton Park
This is the second year playing the Limited Club at Drayton Park and it does make picking those three club a little more difficult. A few players opted to take driver and on 6 of the 9 holes its a good choice, picking the clubs for of the tee for the other 3 holes is a tougher choice. I personally think the choice to hold the Limited Club at Drayton is a great choice it makes you think your way around a course we all know so well. Course management is what its all about, using just 3 clubs makes you think about where you are going to put the ball. Something we should all take into our normal round. Some managed to get round with 3 clubs better than others but even with a two shot penalty from winning the Club Championship Bob Clarke finished overall winner with a score of 35½ beating Pete Arnold and Ada Phillips who both finished with 37½ but with Pete just beating Ada on count back.
The Wrekin Club Championship
With the weather forecast not being very favourable, with rain being a chance of 100%, a lot of us were not looking forward to a very wet day. the journey to the course was met with torrential rain, with visibility very poor on the motorway, the day was not looking good. On arrival at the course, I was personally 15 mins late, due to to a quick pit stop at my sisters to collect a waterproof I'd left the previous week, when I got soaked at a concert, July weather was just awful. On arrival it appeared there was a mix up over the dates, as the chef was expecting us on the Sunday but the paperwork showed July 15th..!! No prep on breakfast & the Chef even had to go out & buy some eggs, so a delay with eating, leading to us being nearly 30 mins late on the Tee but to be fair, although the Chef had to prep & cook 20 breakfasts, all on his own, the food was excellent.
Now for the golf, on the first tee there was No rain but the wind was ferocious, blowing straight into our faces, with the format on the day, being Medal play due to the competition being Club Chship, we were in for some fun ..!!
The wind blew the whole way round, medal play is always a slow format, which again proved on the day, with some of the early groups being in the club house waiting for the stragglers, some 1 hour & a half after they had entered the club house. The course was in fantastic condition, greens were awesome & with the weather over the last few weeks being a mix of rain & sun, the course was really green & great value for money. Surprisingly with the forecast giving 90/100 % rain we only got a couple of showers, that lasted no more than 2 mins each.
Nearest the pins winners & a bottle of wine each on the day, were Fordy on the 7th & Ada on the 18th, scores were very stretched on the day but Nick was 3rd, leaving Smithy & Clarky having a similar score & Clarky winning with a 2 shot margin. Again a great course & one we need to re-visit soon.
Bondhay G.C. Bulls Head Trophy
Almost 12 months to the day we returned to the wonderful Bondhay G.C. In my report last year, I wrote "Wow! If anyone would have said before we had played this course that we were paying £36 with a breakfast for a course this good, I would have said they were having us on". But here we are again same beautiful course, same good breakfast and still only £36. The only difference was that the starter had told us "We've taken out loads of trees" Really! Last years comment was more trees than the Amazon rain forest and there still are loads of trees making this course tight all the way around. In fairness you can see where lots of trees have been removed but there are still plenty to get you into trouble. Again, last year's comment was fast and great greens I thought the greens were again wonderful but not that quick when putting on them, trying to get the ball to stop when pitching in was a different matter. While on the subject of the greens If I had a complaint about Bondhay it would be, yellow flags on the front nine and red on the back nine! Was it me? Did I miss the pin maker sheet in the pro shop, or do they think everyone has a range finder?
With our Captain again putting up two nearest the pin prizes it was left to the last group out to pick up both with Ada Phillips taking one and myself the other. As for the main result, again as with last year our members only just managed to break 30 points off our full handicaps. In third place Steve Jackson with 29 points in second and only missing out on first place by count back was Bob Clarke and our winner with a score of 31 points Steve Smith.
Kibworth G.C. Marston Shield
Whether you had a good round or a bad round you can't deny Kibworth's greens were fantastic. Everyone of them ran true and at a good pace. The rough on the other hand was as tough as tough gets. I know they'd had a lot of rain in the week building up to our visit and maybe it's normally cut shorter than we experienced but it was hard to find a ball that was just off the fairway. Once in it, it was hard to get any distance out of it. Especially if your wife had borrowed your hybrid club and left it in her locker back at Drayton just ask Pete!
With no real breakfast, just a bacon roll to enjoy before we tee'd off there was no need to turn up our usual one hour before hand in fact two members decided as Lee was with us they would take up his mantle and arrive late so late in fact that the draw had already been done.
At the start of the day with members filling out their scorecards the amount of moans when they realised the competition was Bogey. That tells a story of how well loved Bogey is. The result tell another story of how tough the course was to play Bogey on with quiet a few finishing on -13. Finishing in 3rd place was myself on -4, new handicap noted 2nd place went to our Captain Ash who was leader in the clubhouse on -2 until our winner came in with -1 in the last group. Well played Ada and finishing with one of the nearest the pins and a 2 a good day all round. With Keith getting the other nearest the pin.
A recommendation from another society and for the money we paid, despite the bacon roll I think it was worth the nightmare trip around Leicester's ring road to get there. Luckily Trev had come the back way and suggest we all go that way home. Good shout Trev a much better trip home.
Hollywood G.C. Glynn Hughes Trophy
A disappointing turn out of just 13 members for the Glynn Hughes Trophy and the return to Hollywood G.C. We last played Hollywood 7 years ago and my report then stated what fabulous condition it was in and how wonderful it looked. I admit last time we played it was August and we've had a wet few weeks but I still can't see the course making it back to that standard.
Hollywood has some very small greens and with some being very spongey and others still recovering from being hollow tined I for one found putting difficult, I can hear the other two members of my three-ball asking what was the problem with the tee's then. No that was just me I'm afraid.
Our last four-ball struggled with the pace a little and decided to call it a day after 16 holes which was unfortunate for Scissorhands Ford as he put in a good score off his new handicap and in fact beat a few of us that played the full 18.
Our captain Ash put up two nearest the pin prizes, one for the 175 yards 10th and the other for 120 yards 12th. With none of the 13 hitting the longer 10th. It was left to Ash himself to claim the prize on 12 and take home his own "top quality bottle of red".
Hollywood has some short par 4's where you feel some good scoring was achievable, well by someone that could get off the tee maybe. I played with Ada Philips who finished 3rd on 32 points but left so many shots out there most were on those soft or bobbly greens. I think he would have given the two who finished equal on 36 points a closer battle had those putts dropped. Well done to Bob Clarke who just missed out on count back to the event winner Andy Morton.
Market Drayton Presidents Trophy
The second fixture of the season took us back to Market Drayton where almost 12 months to the day we stood in our new shirts in glorious sun shine. This year it was slightly different with rain forecast and rain had already put an end to any buggies being allowed which in turn meant 3 members didn't fancy the walk and with one injured we were down to 16.
Market Drayton is described as positioned down a peaceful lane one mile outside the Shropshire town. Established in 1906 it is a beautiful course with elevations that afford spectacular views of the surrounding countryside. Market Drayton manages to produce a little something for everybody within its 18 holes parkland layout. For peaceful lane see dirt track, depending on which way your satnav takes you. Some of the "elevations" are a tough climb and I take my hat off to some of our older members who made the walk and managed to put in some good scores.
Market Drayton has some really nice holes, holes that you need to think about where to put the ball not just smash it off the tee and hope. With the rain holding off it was a day of coat on coat off depending on how well sheltered you were from the at times bitterly cold wind.
The first individual competition of the season is always bogey and we always have the same comments "I hate bogey" "Do we have to play bogey" etc. We would never hear those comments from the society bogey champion Steve Smith who yet again led the way with a cracking score of level to win beating Steve Jackson who finished -3 and in third place Pete Arnold on -4.
With two nearest the pins Baz Bolton took one which was a great shot onto one of two temporary greens and Paul Burke took the other which was a great effort as he only completed nine holes and had to retire with a sore knee.
Well done to everyone who made it on the day it was great to start the season with a dry round lets hope all our other fixture stay dry.
Texas Scramble
2023 gets underway as always with the Texas Scramble. Following the success of last years scramble being held at Drayton Park it was repeated this year, all be it with a few less guests. Teeing off on a cold afternoon it was great to get back together with society members that we haven't seen for a couple of months. Scramble is always a nice way to start the season, breaking us in gently. This years result was a close run thing with all five teams finishing within 3 shots of each other. The winning team this year was Roy Smith, Andy Grice, Captain Ash Giovani and Keith Ford. Well played guys a tight competition as it should be.
REMEMBER A COMPETITION CARD WILL NOT COUNT FOR THE NEXT EVENT.
The usual course websites can be viewed simply click on the links within the calendar and there should be all the information you need. The times you see for each event will be the first tee time. Don't forget to get there at least an hour before this time if you want your breakfast.
Texas Scramble
2023 gets underway as always with the Texas Scramble. Following the success of last years scramble being held at Drayton Park it was repeated this year, all be it with a few less guests. Teeing off on a cold afternoon it was great to get back together with society members that we haven't seen for a couple of months. Scramble is always a nice way to start the season, breaking us in gently. This years result was a close run thing with all five teams finishing within 3 shots of each other. The winning team this year was Roy Smith, Andy Grice, Captain Ash Giovani and Keith Ford. Well played guys a tight competition as it should be.
REMEMBER A COMPETITION CARD WILL NOT COUNT FOR THE NEXT EVENT.
The usual course websites can be viewed simply click on the links within the calendar and there should be all the information you need. The times you see for each event will be the first tee time. Don't forget to get there at least an hour before this time if you want your breakfast.