2021 Season
Gents please be aware of a chance of date. Ramsdale G.C. has been moved to Saturday 30th October. Long way off so you can't say you weren't give enough notice.
The Great Wall of Sapey.
Finally, at last and about time just some of the phrases used on Saturday to describe our first fixture of the year.
Sapey is a lovely course with some really nice holes all laid out in an interesting way, it's not just a straight up and down trek like some courses. The fairways were in lovely condition as they should be with nobody playing on them for a few months. We started the day with a lovely full English breakfast sitting in warm spring sunshine. After a short delay, I think the handicap secretary thought he'd retired from doing the draw as well as work, the first group got us under way. The first few holes soon had us realising that although the tees and fairways were in good condition the greens weren't. My only moan of the day would be the greens. So many lumps and bumps they were impossible to read. If only they had been rolled or ironed they would have been so much better.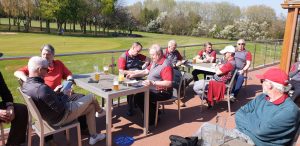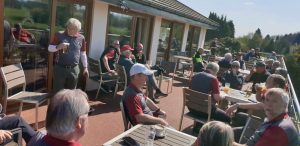 The Glynn Hughes Memorial is a Stapleford competition so points were hard to come by if you didn't putt well (well that's my excuse and I'm sticking to it). I like Sapey and I know a few others in the society do to, a lovely welcome by friendly staff a really nice course particularly the short 8th down the hill and the 9th over the water and around the corner if only the greens were up to the same standard. Congratulations to Nick Williams for finishing third just behind Ada Phillips who lost out on countback to Andy Morton. 10 points on the front nine and a very good 23 on the back that's what you call a turn around. Ill finish with an apology "Sorry Sapey, we have a history of buggy accidents" Although to be fair this one wasn't Paul Burke's fault!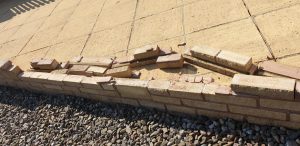 Captain's weekend is planned in for 11th, 12th & 13th September in Bristol which I have on good authority is a cracking place for a good night out so get your names down early and lets make it a full turn out for a great weekend of golf. Courses are yet to be confirmed but the two I have seen mentioned look top notch.
REMEMBER A COMPETITION CARD WILL NOT COUNT FOR THE NEXT EVENT.
The usual course websites can be viewed simply click on the links within the calendar and there should be all the information you need. The times you see for each event will be the first tee time. Don't forget to get there at least an hour before this time if you want your breakfast.